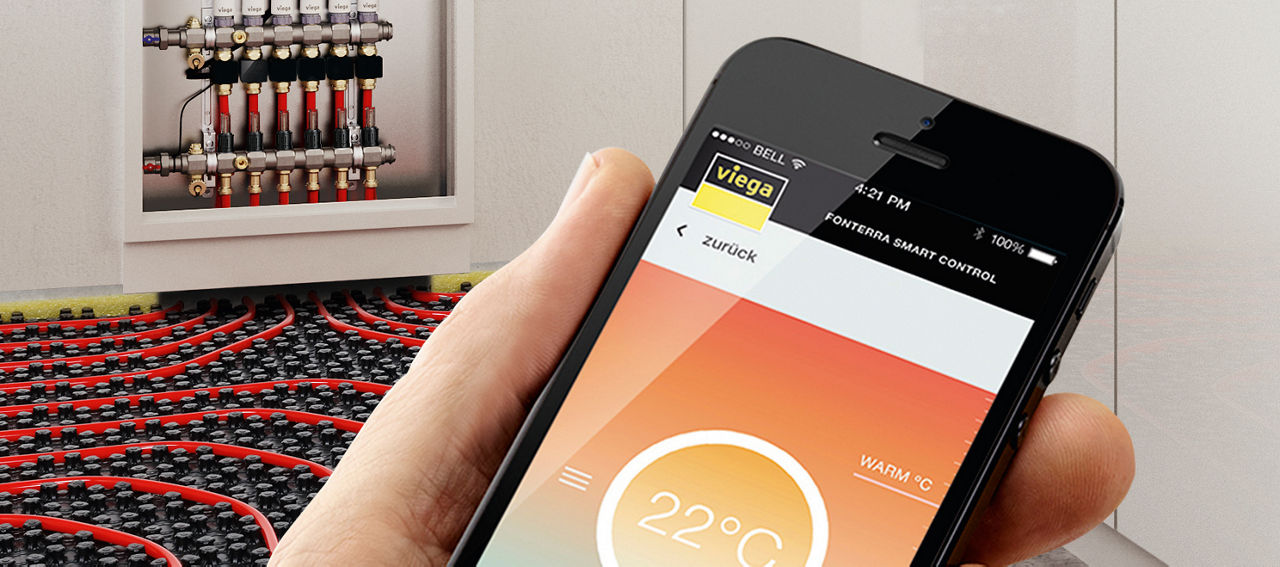 Fonterra Smart Control is a completely new type of individual room controller for surface temperature regulation. The innovative regulation sets up individual heating circuits dynamically and in a fully automated way. To do this, it measures both the supply temperature at the distributor and the current room temperatures as well as the return temperature of each individual heating circuit. Resulting from these measurements, it automatically carries out an ongoing, dynamic, hydraulic compensation.
The result is the perfect, learning and userdependent setting of surface temperature regulation per room – all by itself. For users, this is expressed in the highest level of comfort and reduced costs for both heating and cooling.
The technology
intelligent regulation for all surface heating and cooling systems
ultra-sensitive room thermostats observe the slightest temperature differences
"Plug and Play" principle through pre-assembled plug-in connector
actuator modules allocate the heating circuits to the relevant rooms
analysis of the necessary supply temperature to optimise the heating curve
preservation of floor temperature even with external heat influence
operation with smartphone, tablet, laptop or using building control system
can be retrofitted at any time for all heating circuit distributors with valve insert M30 x 1.5 and Eurocone connection
the analysis of measurements prevents any overshooting of the room temperature when reaching the target temperature
dynamic, hydraulic compensation, through continual evaluation of supply, room and return temperature for each heating circuit
The advantages
planning and operational safety through dynamic, hydraulic compensation: irrespective of installation distances, heating circuit lengths, screed heights, floor coverings, external temperatures or external heat influences
short reaction times due to no complete deactivation
absence mode and anticipated return time can be set
Set-up of output stages for secondary rooms without room thermostat
rapid heating possible thanks to definition of prioritiesed rooms and determination of user dependant heating profiles
simple and intuitive operation by technicians and end consumers in WLAN network through browser-based user interface
This System knows how to control itself.
Fonterra Smart Control reacts automatically to all temperature influences (e. g. through ventilation, chimney, sun) and prevents these having an effect on the heating performance.